Laminate Flooring Sales & Installations
Laminate flooring provides an upscale appearance with the characteristics of real wood and stone. It is easy to care for as well as scratch and water resistant. Sav-On Floors is proud to offer these top-notch manufacturer products:
Mannington
Eastern Laminates
Mohawk
Palmetto Road
Quick*Step
Shaw
What is Laminate?
Laminate Floors are similar to the material on many countertops - only 20 times harder! Although not natural hardwood, the look of hardwood is available.
These floors are truly state-of-the-art, representing an easy to install floating floor system.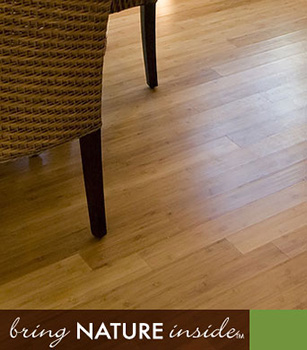 Water Resistant Laminate Flooring
Flooring that combines the look and feel of real hardwood with water-resistant technology to protect your floor from everyday spills and splashes.
Highly water-resistant
Stain Resistant
Looks and feels like real hardwood
Exceptionally durable; resistant to scratches and gouges
Stands up to kids, large pets and heavy foot traffic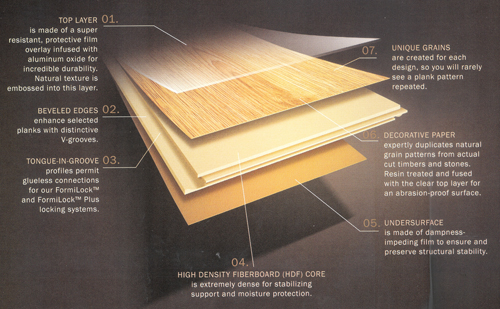 Style. With Lots of Substance
With fashion experts that stay on top of the latest available materials, designs and colors, we have long maintained a reputation for creating surfaces that meld impeccable style with resilience and ease of care. We strive to carry products that are able to bring you an ever expanding palette of hardwoods, slates, and travertines. It is no wonder when a new wall, ceiling, counter and cabinet fashions emerge, home decorators find beautifully rendered and expertly produced flooring products that coordinate perfectly.
Why Laminate?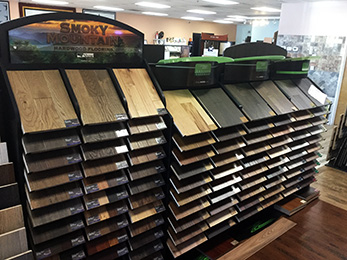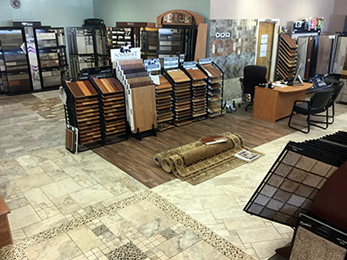 Fade Resistant - Let the sun shine in. Our laminate flooring is non-fading and will retain its brilliance for many years.
Water Resistant - Timeless Waterproof Laminate Flooring that is durable, stylish, and easy to maintain.
Wear Resistant - Laminate floors stand up to feet stomping, paw scratching and other thins knows to destroy other flooring options.
Stain Resistant - Because our Mannington laminate flooring has a special clear coat finish, it keeps ugly stains from penetrating.
Work Resistant - It does not take much to keep laminate flooring clean. Sweep with a broom or use a vacuum. Footprints and dirt come right off with a damp cloth. For stubborn spots use our laminate floor cleaner.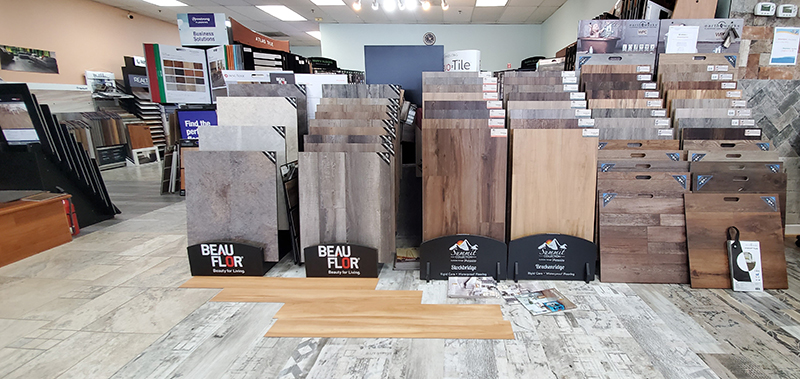 Care and Maintenance of Laminate Flooring
Laminate flooring is virtually maintenance free. Normal sweeping or vacuuming will keep your floor clean.
Recommended Tips
Never leave any amounts of liquid (water, juices, soft drinks, alcohol, etc.) on the floor for more than the time necessary to wipe up the spill.
Do not use any cleaning agents containing wax, oil, or polish. Leftover residue from these agents can leave a dull film on the floor.
Do not use steel wool or scouring powder as this could scratch the floor.
Use either a natural or color-fast doormat outside and inside each entrance to your home to help prevent dirt, sand, grit, and other substances from being tracked onto the floor.
Use wide-bearing, non-staining floor protectors such as felt pads under chair and table legs.
Be sure to take advantage of our expertise by calling for an appointment to meet with our design specialist or email us today!